Flying Tiger Line Curtiss C-46 N67962 (c/n 22515)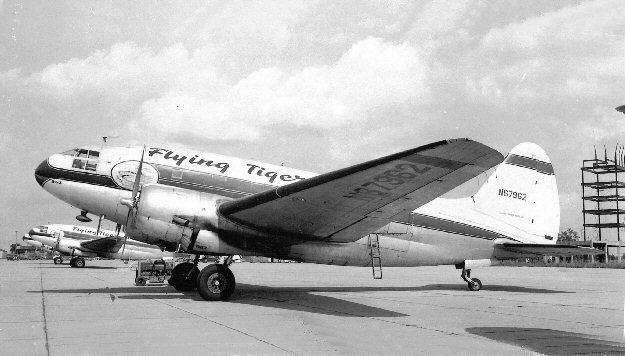 Operating one of the largest, if not

the

largest fleets of these 'double-bubble' fuselage transports,
Flying Tiger had at least 40 C-46s registered in their name at one time or another. The above
line up was at Oakland, circa 1954. The C-46s were acquired in the 1949/1950 time frame to
replace the DC-3s. By this time the company was flying ad hoc and scheduled contract freight
flights from coast to coast. N67962 was a former C-46F-1-CU (44-78692) and was one of
those C-46s later converted to Super 46C standard. It was sold in 1955 to Canadian Pacific
Airlines as CF-CZH. It crashed 24 kms southeast of Thompson, Manitoba on 29 September
1977 whilst owned by North Coast Air Service .The aircraft lost height due to engine problems
and was force-landed in trees while trying to return to Thompson Airport.