Flying Tiger Line Budd RB-1 Conestoga NC45356
(c/n 014)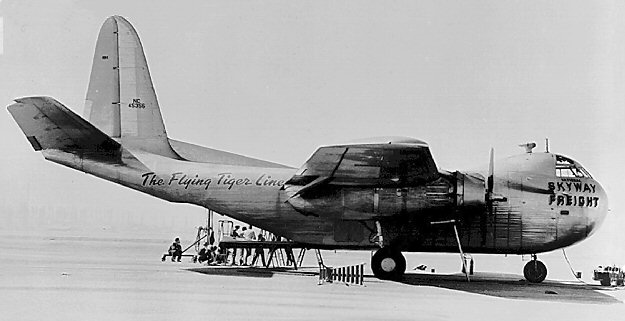 Flying Tiger Line was founded by Robert W. Prescott and ten former members of the AVG Flying
Tigers Group in 1945 when they returned back to the US from China. Initially the company was
named National Skyway Freight, although changed to The Flying Tiger Line shortly after. . Initial
equipment consisted of war surplus Budd RB-1 Conestogas, one of which is seen above. This
aircraft had been developed by the Budd Company of Philadelphia, makers of railroad cars, and
was constructed of stainless steel. There appeared to be a distinct possibility, by 1945, that
aluminum would be in short supply and the military wanted to explore other materials for aircraft
construction. In the event, of the 200 ordered by the US Navy, only about 25 were built. Of
these fourteen or so remained airworthy at war's end and Prescott bought them all. After selling
four and cannibalizing a couple more, seven or eight of these aircraft were used to inaugurate freight
services between California and Atlanta. The Budds were unreliable and the pilots did not like
them and as soon as war surplus DC-3s became available (circa 1947) the Budds were scrapped.