Federated Airlines Curtiss C-46 N51424 (c/n 30430)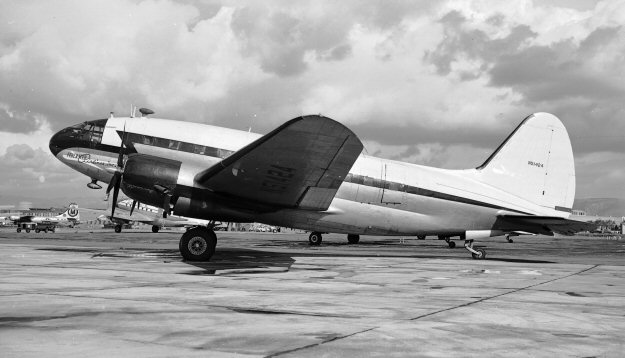 In the dosier I had compiled 60 years ago on the non-scheduled airlines of the United States I had
had this carrier noted as Federated

Airways

. Clearly I was incorrect, as evidenced by the close up
of this photo (below). Either that, or (a) the painter got it wrong or (b) this was a different airline.
I think they were the same. Federated was incorporated in New York in 1948 with a small fleet
of C-46s and C-47s flying irregular, mainly passenger, services. They also operated, for a while,
the C-54 (DC-4) N56010.. The shot above was taken by Bill Larkins at that mecca for all non-
skeds, Oakland Municipal Airport in November 1952. N51424 was an ex C-46A-45-CU
(42-96768) which had been civilianized for Aaxico Airlines in 1949. It was later acquired by
Capitol Airways and crashed into the Gulf of Mexico near Pensacola, FL on 2 April 1955. The
aircraft was on a military charter positioning flight out of Mobile-Brookley AFB, AL en route to
Warner Robbins AFDB, GA, when it ran into severe thunderstorm activity and turbulence. Both
the pilot and co-pilot were killed.