Economy Airways Curtiss C-46 N3971B (c/n 22594)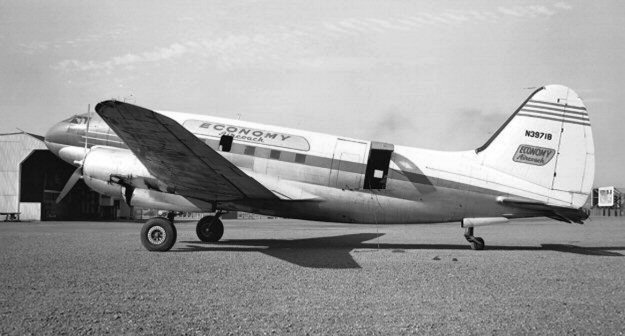 Headquartered at Newark Airport, NJ in the early 1950s, Economy Airways had a modest fleet
of C-46s and C-47s. They flew mainly charters under the titling 'Economy Aircoach;' although
did so on a somewhat regular (semi-scheduled) basis. N3971B, a C-46F-1-CU (ex 44-78771)
was leased from the Air Force in 1950, and operated by the company until at least 1954. . Its
next operator was Aaxico Airlines, and eventually it went to Zantop Air Transport. Whilst with
that latter concern it crashed on take off from Detroit-Metropolitan Wayne County Airport on
20 November 1964. The aircraft, on a cargo run to Wilmington, Delaware had been loaded to
within 20 lb of its allowable maximum auw of 48,000 lbs. The weather was 26F with light snow.
The aircraft became airborne after a long run and then almost immediately lost altitude and crashed
beyond the runway threshold. The cause was given as a loss of lift during takeoff, resulting from
airframe icing caused by inadequate de-icing and pre-flight inspection.