Continental Sky Van Douglas DC-3 NC56968 (c/n 4341)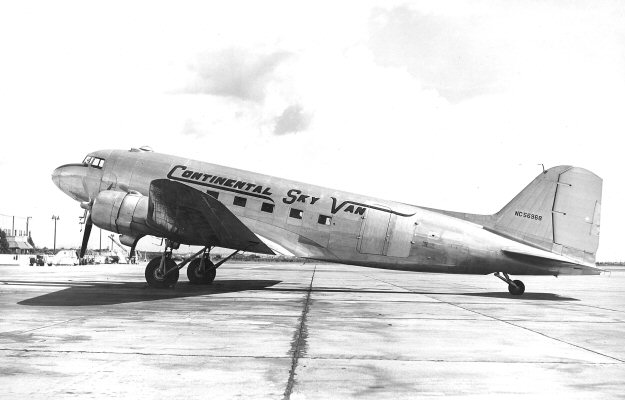 Continental Sky Van flew irregular scheduled passenger service coast-to-coast out of its Oakland,
California base, where this Bill Larkins photo was taken in 1946. It also offered cargo charters,
although appeared to have operated only during that year and soon closed down. Remember, in
those days, any ex WW II pilot with a few bucks could start an airline. NC56968 was one of
hundreds, if not thousands of surplus C-47s avaialable for such purposes. Built as a C-47-DL with
USAAF serial 41-7842, it went to Brazil after Contintentall Sky Van closed up shop, being acquired
by Aero Geral as PP-IBB. Aero Geral was later taken over by Nacional at which time it was
re-registered PP-ANP. This line also succumbed to merger and this DC-3 was absorbed first by
REAL and then by Varig, still as PP-ANP. It was then sold to the Ecuadorean Air Force and
ended up with their airline division, TAME as HC-AUZ. It was written off in a crash on 2 May
1974 whilst with Aerotaxis Ecuatorianos SA (ATESA).