Continental Charters Curtiss C-46 N1804M (c/n 22585)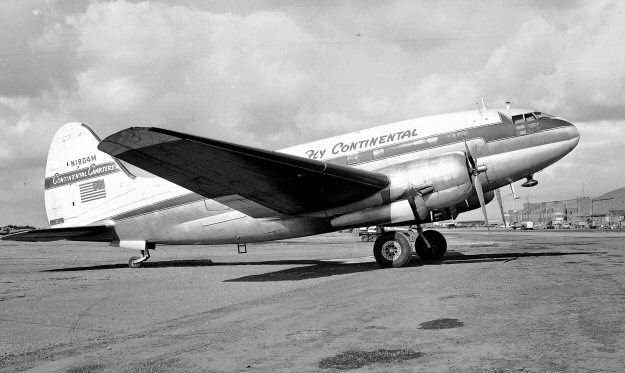 This livery had to be pushing the limits of copyright infringement, I would think. Continental
Charters was formed in 1947 and, so far as I can conclude, was not a subsidiary of Continental
Airlines, and was not related to that airline in any way. And yet the titling treatment on the tail
of their aircraft is extremely reminiscent of that used by the scheduled carrier at that time!. This
company operated a number of C-46s and DC-3s and was notable in that, at one time, it flew
the Boeing 307 Stratoliner N19903. It appears to have been incorporated in Miami, although
Bill Larkins' shot above was taken at Oakland, CA in July 1952. N1804M, an ex C-46F-1-CU
was leased from the Air Force from 1949 to 1954. The Department of Justice owned it in 1959
(to deport illegals?) withdrawing it from service in 1965. It was supposedly stored although I
have no idea where. Like many non-skeds of its ilk, Continental Charters lost several C-46s
involved in accidents over the years and, by 1958, the airline had disappeared.
.