Coastal Cargo Co Curtiss C-46 N1805M (c/n 22551)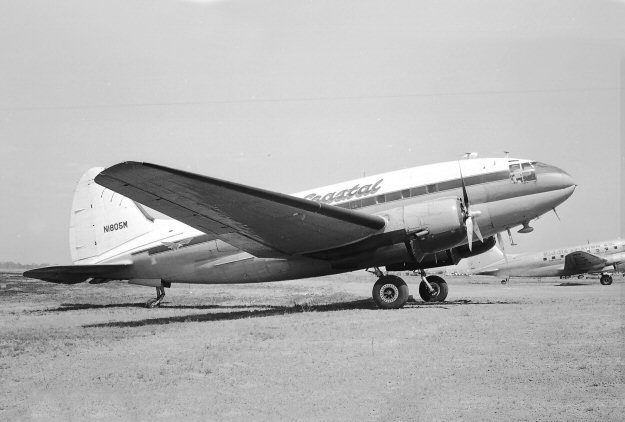 There were several non-sked airlines to use the name 'Coastal' in one form or another. Coastal
Cargo was founded at West Trenton, NJ in 1947 as a contract and charter cargo operator. It
later grew into a fairly large company with transatlantic services. Passenger charter operations
were commenced in 1960 and at that time the company changed its name to Coastal Air Lines
and, in fact, suspended its cargo operations. It initially commenced business with a small fleet
of C-46s and DC-3s. The above photo was taken at Oakland in May 1952 by Bill Larkins.
The C-46 in the background, incidentally, is one of the Riddle Aviation Company's. Anyway,
when Coastal began passenger services it acquired at least one Lockheed L749 Constellation.
N1805M went on the serve with Coastal Cargo (Canada) Ltd out of Dorval Airport in Mont-
real as CF-IHV. It later went to several other Canadian operators before crashing at Lac
Randall, Quebec on 20 December 1972. while with Nordair.