Capitol Airways Curtiss C-46 N1308V (c/n 22583)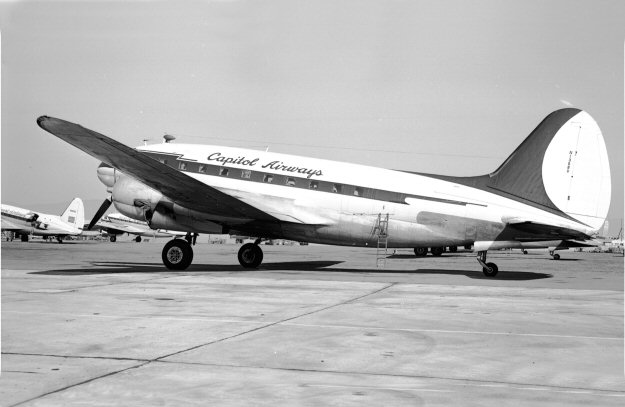 Capitol Airways was founded in 1946 by Jesse F. Stallings, and incorporated in Delaware. Its
operational center was in Nashville TN. It started operations right after WW II as a FBO and
flying school. It then developed cargo and passenger charters and gained several military contracts,
growing rapidly. Initial equipment was DC-3s and C-46s, one of which is seen above in this nice
shot by Bill Larkins (enlargement of registration below) among a plethora of other non-sked C-46s
at Oakland on 14 September 1952. In 1967 the company changed its title to Capitol International
Airways to reflect its growing global presence. For a period during its career the airline attempted
to run "Sky Saver" scheduled flights, although these were short-lived. Capitol has operated (leased/
owned) a vast fleet of over 50 C-46s over the years.
N1308V above was one of a large block of C-46F-1-CUs converted for civilian use after WW II.
It unfortunately crashed following an in-flight fire over Katy, Texas on 11 January 1961. The aircraft
was on a cargo flight from San Antonio, TX to Mobile, AL when the No 8 cylinder of the port engine
separated, spilling oil into the wheel well and burning through oil and fuel lines.