Capitol Air Douglas DC-8-61 N4578C (c/n 45943)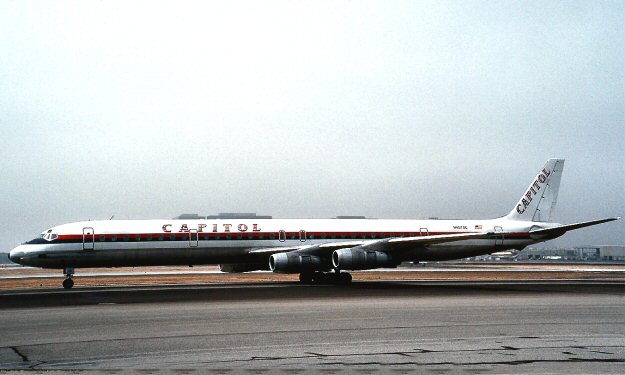 Capitol was one of the original 15 airlines granted Supplemental Carrier status by the CAB in
1962. It grew from an aircraft sales and maintenance and flight training operation with a small
non-sked division into a very large intercontinental charter and military contract carrier with a
sizeable fleet. It in fact operated, at one time or another, more than 50 DC-8s of various
stretches, along with 5 DC-10s and a leased Airbus A300. . N4578C seen above at LAX
by Frank C. Duarte Jr in July 1974 had been leased from Japan Airlines and is wearing a sort
of hybrid livery with a JAL cheatline and Capitol titling. The carrier changed its corporate
name in January 1982 from Capitol International Airways to Capitol Air. Capitol Air declared
bankruptcy in the mid-1980s after the new owner, George Bachelor, dismantled it and merged
it into his other existing charter outfit, (and later scheduled airline), Arrow Air.