Blatz Airlines Douglas DC-3 N62086 (c/n 19713)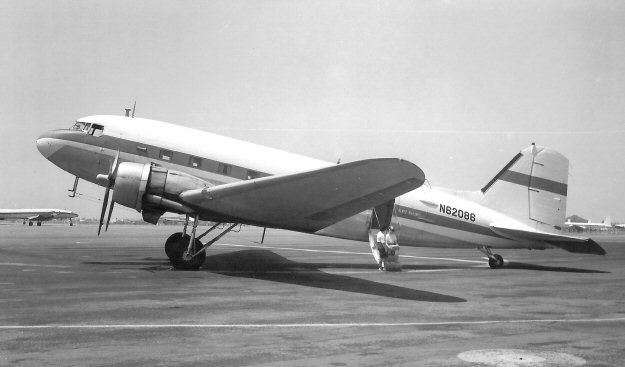 Here's a non-sked airliner actually in service at Burbank in 1960. It carries no airline name
other than at doorside (see below). Livery was blue and white. It was departing for the
Bay Area (probably Oakland) when I took this shot. Burbank, even in those days, was
very difficult to gain access to the ramp. Blatz was founded in 1947 by F.A. Blatz and
in 1959 received a two-year scheduled operating certificate from the CAB. This allowed
irregular schedules to be flown to California and Nevada locations. The airline often did
double duty as executive transport for movie stars. It operated as many as six DC-3s and
later acquired a couple of DC-4s. After its scheduled operations ceased it continued as a
charter outfit until at least 1970. N62086, an ex C-47A-80-DL (43-15247) was civilian-
ized in 1946 for Aloha Airlines and had a couple of other US owners before Blatz acquired
it in 1959 . It was scrapped at Long Beach in the 1970s.