Arctic Pacific Airlines Curtiss C-46 N67984 (c/n 22579)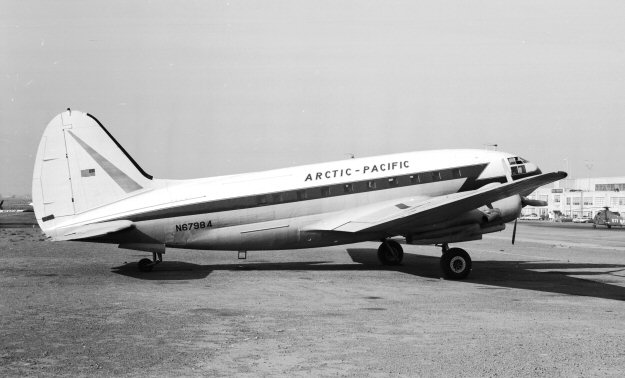 Arctic Pacific Airlines was founded in 1947, based in Seattle, WA. It operated passenger and
cargo charters and, despite its name, not necessarily to northern latitudes. It had a fleet of three
C-46s and a similar number of DC-3s. N67984 had been civilianized for Flying Tiger Line in
1950 from the C-46F-1-CU 44-78756. It was a late model, having been delivered to the
USAAF after WW II had ended in late 1945. It spent a period in Canada as CF-HYU under
lease from FTL. Arctic Pacific bought it in 1956. When the charter airline folded late in 1960
this C-46 went to Johnson Flying Service and, after several other US owners was sold to Lanica
in 1976 as AN-BRG (later YN-BRG). It appears to have been broken up around 1987. The
photograph above, from the William T. Larkins collection, was taken by L.S. Smalley at Oakland
on 20 October 1958.
On October 29, 1960, at 22:02 EST, another Arctic Pacific C-46, N1244N, on charter to the
Cal Poly State University gridiron team, crashed on takeoff at the Toledo Express Airport in
dense fog. It appears that power was lost in one engine and, possibly due to lack of visual
reference the port wing struck the ground resulting in the complete destruction of the aircraft.
Twenty-two of the forty-eight souls on board were killed, including sixteen players, the team's
student manager and a Cal Poly football booster. This crash was probably the deciding factor
resulting in the demise of the company.