All American Airways Curtiss C-46 N1674M (c/n 22403)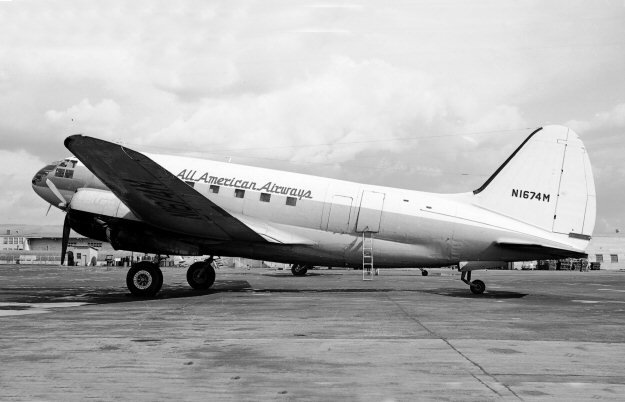 All American Airways (not to be confused with the All American Airlines which became Allegheny
Airlines) was formed in Miami in 1946. It operated a number of C-46s in addition to DC-3s and
DC-6s. It initially ran irregular scheduled services mainly between Miami and San Juan, Puerto
Rico. It later moved its headquarters to that mecca of all non-sked C-46s, Oakland, where Bill
Larkins' shot above was taken in November 1952. This one was sans the normal livery which
consisted of an Air France-type cheat line. In 1960 All American changed its name to Saturn
Airways, and as such, continued to fly until 1976. N1674M, an ex C-46F-1-CU (44-78580)
was civilianized in 1948 for All American and passed to Saturn in 1960. A year later it was sold
to CAUSA in Uruguay as CX-AYR. Sold to Aerolineas Colonia in 1963 it was withdrawn from
use at Colonia del Sacramento in 1966.