Air America Curtiss C-46E N59483 (c/n 2940)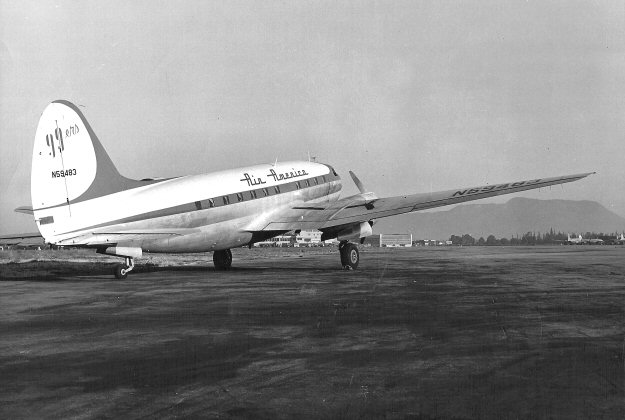 This Air America was not the same company as the covert CIA operation of the same name
which operated in Southeast Asia during the Viet Nam war. The aircraft above was one of
many C-46s and C-54s owned by Stanley Weiss in his North American Airlines Agency
which acted as a centralized passenger reservation facility to enable the concern to operate
a non-sked airline service on a more or less scheduled basis. The non-skeds were limited to
twelve flights a month, and these theoretically had to be at irregular times. Weiss, by combining
six or seven "airlines" under one corporate umbrella, and by painting the aircraft more or less the
same, was able to give the public the impression that it was flying on a single airline, and flew at
least one daily flight each. These air-coach flights were able, as the slogan on the tail implies,
to provide coast-to-coast transportation for a one way fare of $99.00. Needless to say the
scheduled carriers, TWA, United, National et al, cried bloody murder, although in the end, on
a "if you can't beat 'em, join 'em" theme launched their own "air coach" fares and more or less
put the non-skeds ouit of business. But it took more than a decade to do it, and many such
small concerns which had started as non-scheduled airlines grew into large, legitimate charter
concerns with military contracts.
N59483 was originally civilianized for Slick Airways in November 1945, and acquired by Air
America in 1951. It was absorbed into the North American Airlines fleet when Air America 's
registration certificate was revoked by the CAB in December 1953 for violations. (This happen-\
ed frequently, although as soon as one outfit was closed down, anotherr quickly took its place).
My photo above was taken at Burbank in1951 whilst Bill Larkins caught the same machine
(below) with a revised paint scheme at Oakland in August 1952.
Burbank and Oakland were the west coast terminals for the non-skeds while Teterboro and
White Plains served the New York area.