AAXICO Airlines Curtiss C-46F N1824M
(c/n 22446)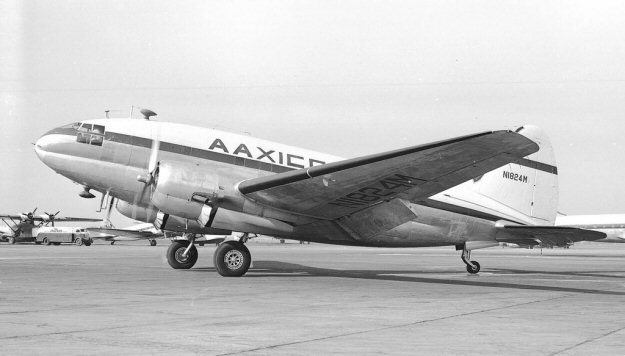 AAXICO was founded in 1945 by Howard J. Korth as American Air Export & Import Company.
It operated passenger and cargo charters mainly from New York to Atlantic City until 1956 when
it became a full time freight company. The corporate name was changed in 1957 to AAXICO
Airlines. Initially it operated a large fleet of C-46s, and later flew DC-6s. . Like many of its ilk,
this C-46F-1-CU "did the rounds" of the non-skeds in the 1940s, 50s and 60s. Originally serialed
44-78623 with the USAAF it went first to Airlift International before being acquired by AAXICO
in 1954. Bill Larkins shot (above) was taken at Oakland in 1954, the northern California "home"
of scores of non-skeds . N1824M later passed to Universal Airlines and Capitol Airways before
winding up in Columbia as CP-941. It was written off while operating with Trans Aereos Illimani.
Saturn Airways acquired AAXICO in 1965.