Fairchild Dornier 328JET N328DA (c/n 3171)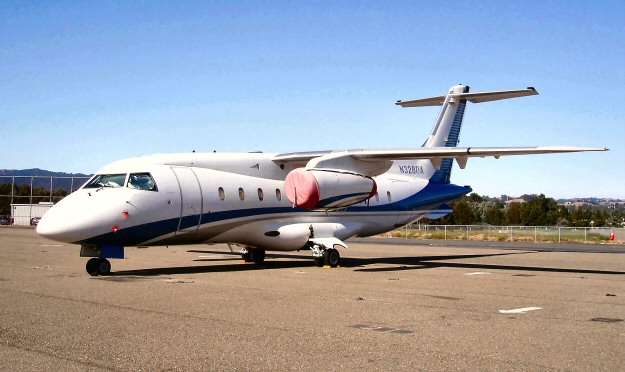 This aircraft is described in the FAA register as a Fairchild Dornier 328-300. Dornier, however,
marketed it as the 328JET. The Dornier 328-100 was a 33 passenger high-wing T-tail aircraft
with two Pratt & Whitney PW119B turboprops. When re-engined with turbofans it was not,
oddly, given a new marque number. Hence the 328JET. It was on essentially the same airframe
as the propjet machine. Initially produced in Germany by Dornier Luftfahrt GmbH, this company
was acquired by Fairchild in 1996. Production of both the propjet and pure jet versions of the 328
continued in Germany, with a sales office being set up in San Antonio, TX. Lack of sales (some
107 were built) forced Fairchild to abandon development of the line and in 2002 Dornier filed for
bankruptcy. Sales and production rights were then assumed by AvCraft Aviation of Virginia who
themselves folded in 2005. Several of the 328JETs were in executive layout, as seen in the above
example which was a frequent visitor to Buchanan Field, Concord, CA in August 2010 where
Bill Larkins took the above shot.