Douglas DC-6B N1R (c/n 44434)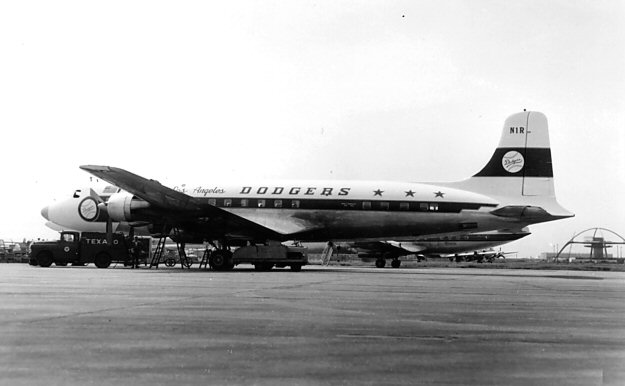 When Western Airlines began taking deliveries of its Lockheed L-188 Electras, it began selling
off its DC-6Bs. This low time aircraft went to the Los Angeles Dodgers Baseball organization.
Here it is seen just out of the Western Airlines' paint shop in March of 1961. It was later re-regis-
tered N180R . In 1963 it was sold to Taxader Columbia as HK-1029 but repatriated back to the
US as N12810 two years later, It then spent ten years with Spantax in Spain as EC-BBK who
converted it to full cargo status by sealing off the windows and installing a swing tail for easier loading.
Zantop International of Detroit purchased it in 1975 when it became N434TA. It wound up its days
with Northern Air Cargo and is currently lying derelict at Fairbanks International Airport in Alaska.