Piper PA-18 Super Cub ZK-BQQ (c/n 18-5412)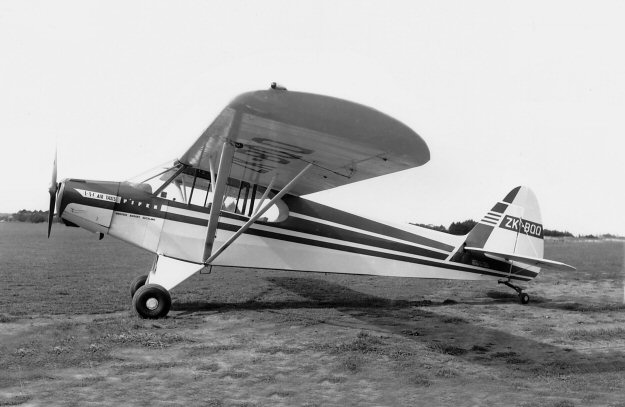 The PA-18 was the ultimate development of the J-3 Cub, and is still in production (although not
by Pipers). The original Piper Aircraft Corp filed bankruptcy in 1994 . It has now been resurrected,
but does not build Super Cubs. A company named Cub Crafters in Eugene, Oregon, acquired the
rights to continue building this ubiquitous aircraft, and a production line has been set up. Currently
they expect to turn out around 50 of their new 'Top Cubs' in 2005. Gone are the days when you
could pick up a Cub for $2,500, however. These babies cost upwards of $175,000! Admittedly
it's a product incorporating many design changes and improvements gleaned by Cub Crafters in their
repair work over the years, plus the 'Top Cub' has 180 horses under the cowling. The original Super
Cub came in four basic models, depending on the engine. The Super Cub 95 had a 90 hp Continental
C90; the Super Cub 125 had a 125 hp Lycoming O-290-D; the Super Cub135 was also equipped
with a Lycoming of 135 hp, while the top of the line was the Super Cub 150 with a 150 hp Lycoming
O-320-A2B. My example shows a New Zealand registered Super Cub 150 of A.A.C. Air Taxis at
Mangere Airport in Auckland in 1958.