Interstate S1-B1 Cadet N48736 (c/n unknown)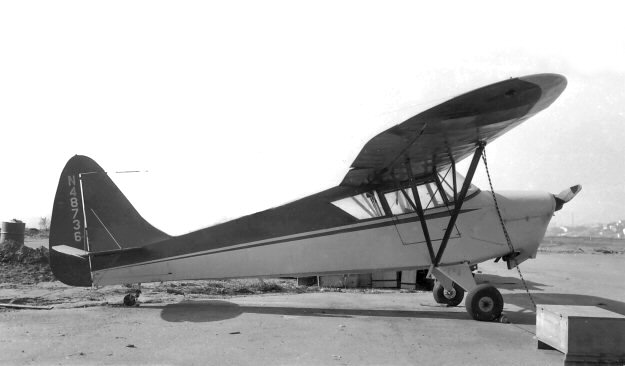 The Interstate Aircraft and Engineering Corporation first produced the Model S-1A in 1940. 250 of
them were built for the USAAF as the L-6. Most contemporary references to that model, call it the
'Grasshopper'. However, in truth, all Liaison types were given that nom de plume during WW II.
Since all the Interstates I ever saw were registered in that block of N numbers which are 'ex-military'
(roughly N40000 - 80000) I assume that this S-1B-1 was an ex L-6. The true civilian Interstates
had a rounded rear window. This shot was taken at Cable-Claremont Airport in that portion of the
L.A. Basin known as the 'Inland Empire'. Date was 1957. This aircraft is no longer on the register
and I could not obtain its c/n at the time I took this photograph. In 1945 Interstate sold the rights to
the design to Reuel Call, founder of the Call Aircraft Company of Afton, Wyoming. A few post war
Model S-1As were built, and below is a shot received from Callair in 1947 of what was, in essence,
the prototype of the post war Interstae, N2923V. In the event Callair made a few S-1As and then
sold the project off to William Diehl of Anchorage Alaska. He modified it slightly and it re-emerged
as the 'Artic Tern'. Under a new 'Interstate Aircraft' incorporation, the model S1-B2 is still in
production today.