Culver V N44520 (c/n V-17)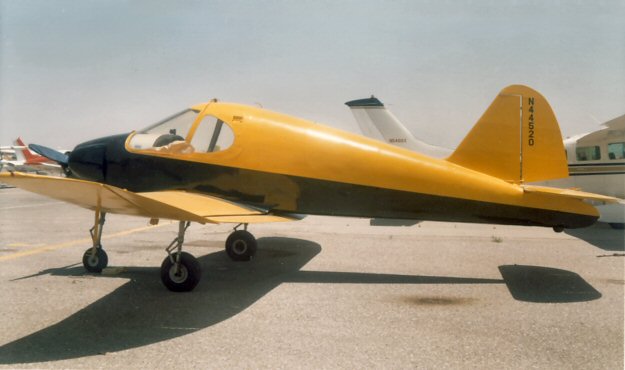 Like the Culver Model L series, the Culver "V" (for Victory) was designed by Al Mooney for
the post-war pilot. After all, there would be thousands of returning military pilots who would,
now that the conflagration had ended, want their own aircraft. Right? Well, not quite. Hence
many of the myriad of post-war aircraft manufacturers pulled out. Culver was no exception.
However, the Culver V offered many new (and untried) advanced features. Designed especially
for the amateur pilot and novice, the Model V had a patented system of flight control known as
"Simpli-Fly". This consisted of an ingenious hook-up of controls whereby a pilot could set up a
mode of flight (shades of today's Cirrus SR-20?) simply by turning dials or setting levers on a
console of the dash panel. Settings such as "takeoff", "climb out", "cruise", " approach" and "glide"
could be selected. This, of course, didn't work too well, and eventually the company came out
with the V-2 model (sounds like a Nazi rocket) which was designed to correct the bugs, but by
this time the damage to the little craft's reputation had been done and the aircraft did not sell in
cost effective numbers resulting in the bankrupcty of the Culver concern. Roughly 100 Model
Vs were built. My photograph was taken at El Paso, Texas, Municipal Airport in 1982.

In 1950 I travelled to South Africa. I knew (since I kept abreast of all the civil aircraft registers)
that four Culver Vs had been registered there (as ZS-BRP/R/S/T). I also knew they were
supposed to be in Cape Town. So off I rush to Youngsfield Airport. Maybe I could have a go
at one of these simple-to-fly novelties? "Where are the Culvers?" I ask. A black mechanic
indicated a fuselage hanging up on a hanger wall, and a large crate containing wings. (It was
yellow, like the one above). "Where are the others?". "Oh," says the mechanic " they wouldn't
give 'em a C of A so they cancelled the order"!!. He actually probably followed that up with "Mon".
(No "mates" in South Africa). Anyway, I understand that ZS-BRP was broken up and never flew
(at least in ZS- land).