Cessna 310 N4860B (c/n 35160)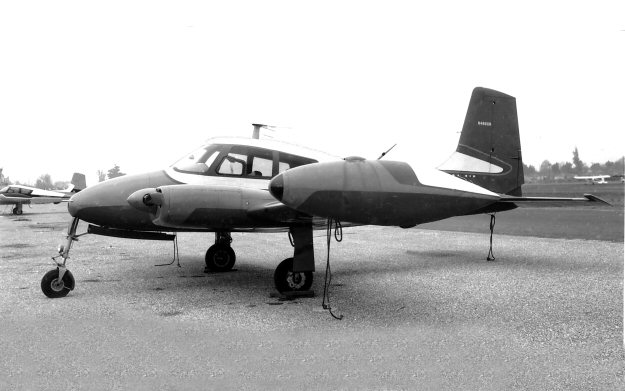 In 1952 Cessna began work on the design on a 5-6 seat twin-engined light monoplane to
augment the 195 series. The result was the 310. Production deliveries began in 1954. This
aircraft has spawned a whole range of similar twins, many of which are still in poroduction today.
The 310 was particularly difficult to photograph because of the two large wing tip tanks which,
in this model, represented the entire fuel tankage. Seen above is a 1956 model photographed
at Teterboro, NY in October of 1956, with a 1954 model to the left. In the mid-50s it was
in vogue to paint the registration of (just about) every aircraft in miniscule numbers on the fin. At
this density there is no way the registration number can be discerned. This became so ridiculous
that the FAA started encouraging (or legislating, I 'm not sure which ) the large fuselage markings
which, hitherto, had been unknown in the U..S. I am not happy with the above shot and will scour
the collection for a better sample of a "straight" 310. Shown below is a Cessna Aircraft Company
photograph of the prototype 310 (

N37879

) which first flew in January 1953.