Bendix Model J NX74102 (c/n 2)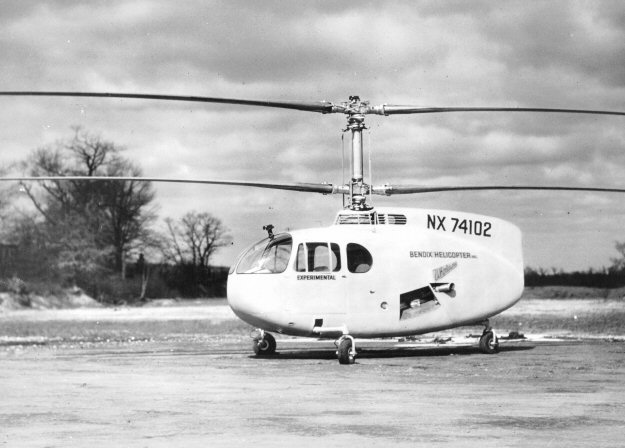 Bendix experimented with helicopters around 1945 with a design (the Model K) by Charles L. Morris,
a former Sikorsky test pilot. In 1946 two prototypes of the Model J were built to a US Navy Bureau
of Aeronautics specification. They were co-axial, counter-rotating four-seater helicopters. In the event
the Navy weren't too interested and the first prototype was, I believe, sold to Gyrodyne who further
developed it into the GCA-2. In 1947 Bendix sent me the two shots seen here. The lower one is for
the rarely illustrated first prototype, NX74101. Or at least, that is what I have thought for the past
sixty-odd years. I had not looked closely at it until I scanned it (in 2012). Having done so it would
appear that the registration has been crudely inked in (see closeup of the tail at the foot of the page)
Remember, there was no PhotoShop 70 years ago and so mods were done either with a pen or by
brushing. Whether this is, in fact, the first machine is, therefore debatable. More likely it is and
that the rego did not show up well on Bendix's photo and hence their photographic department decided
to augment it with enhancements of their own.