Bellanca 14-9 Junior N130E (c/n 1029)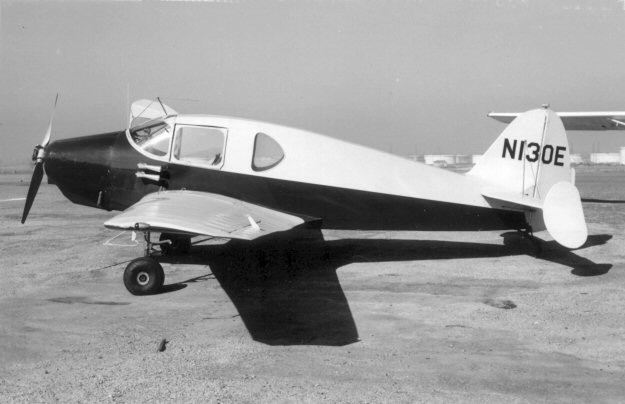 Guiseppe Bellanca announced his "Junior" model early in 1939 and it was, in fact, the first lightplane
incorporating a retractable landing gear to be produced in quantity. 44 examples were manufactured
at the Bellanca factory in New Castle, Delaware in 1939/40. Ostensibly a three-place machine, it
was better suited with only two up. (Maybe two grown-ups and a child!) . 41 were powered by a
90 hp Ken-Royce 5-F or 5-G engine, while 3 (designated the model 14-9L) had a 5 cyl. Lenape
"Brave": LM-5 engine. N130E seen above at Torrance Municipal Airport in 1960 was previously
the Civil Aeronautics Administration's NS130. This forerunner of the FAA has it own NS "State"
series of registrations, rather than using the normal NC (Number Commercial). Unfortunately, when
I took the photo above, the door (on the starboard side) was opened up in its fully forward position.
I seem to remember that I could not locate the (then) owner to ask him or her to close it, so had to
take this shot the way it was. Incredibly, 16 of the original 44 machines are still extant - an endorse-
ment as to the aeronautical wizardry of Guiseppe Bellanca. One of the three Model 14-9Ls hangs
from the ceiling of Charlotte (North Carolina) International Airport. Two of the 14-9Ls were operated,
pre-war by State Airlines in that area It is difficult to believe that scheduled passengers services were
flown with them - it was probably a charter outfit.
.