Beech 35 Bonanza ZS-BNY (c/n D-100)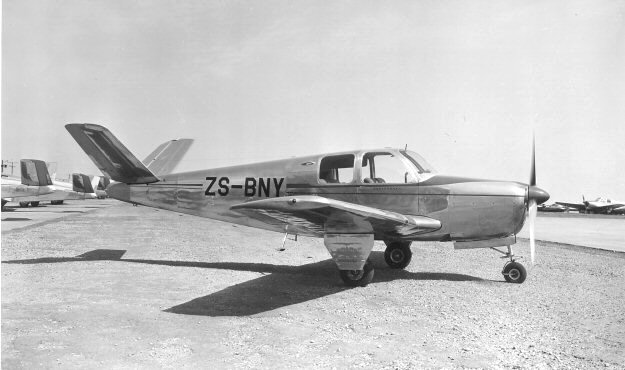 The prototype Beech 35 Bonanza first flew on 22 December 1945. Since then more than 10,000
examples have been built. The above Beech Aircraft photograph was obtained in 1948 and shows
a typical Model 35 Bonanza on the field at Wichita in 1948 along with several other brand new aircraft.
. ZS-BNY, in the aluminum overall and red trim with black registration scheme of the day was delivered
to the Aviation Corporation of Africa of Germiston, Johannesburg's 'second' airport. Each year Beech
made improvements to this basic four-seater giving an alphabetic prefix letter staring at A35 in 1949
and reaching V35 by 1966 (some letters, I, L,O,Q,R,T) were not used. These improvements included
lengthening the fuselage to accommodate six seats (with additional windows aft of the square one), and
optional turbo-charging with the V35TC. At one time I owned a quarter share in an A35 Bonanza
similar to this one. ZS-BNY lasted until 1976 when it was destroyed in a crash at Graskop.