Aero Design Commander 520 N4100B (c/n 520-1)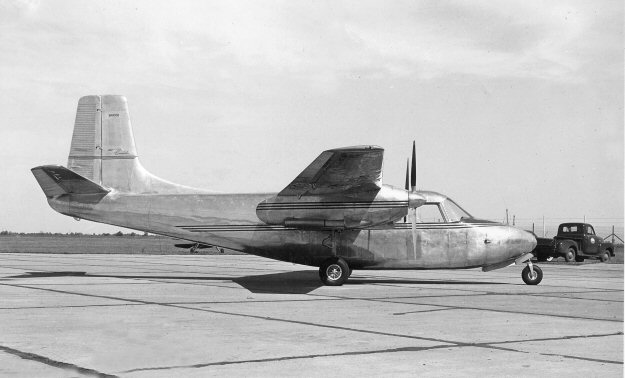 The Aero Design and Engineering Company was formed in Bethany, Oklahoma in 1947 specifically
to design and built the twin engine high wing 5 seat executive aircraft to be known as the Commander.
The first flight occurred in 1948 and production got under way in 1951. It was an instant success and
demand for it ran high. The very first one is illustrated above in this Aero Design photograph. The
registration is carried in 2 inch high numbers on the fin. This was the in vogue thing to do in the early
1950s. I mention this annoying trait regarding (mainly US) registration numbers elsewhere in my website.
Below is a blow up so you can see that my identification of it as being the first one is no lie! Anyway,
improvements were continually being made to this aircraft, resulting in the straight tail design being
upgraded to a swept tail version (see next entry). The 520 had two 240 hp Lycoming GO-435-C2
engines.