Victa Airtourer 100 N4300V (c/n 74)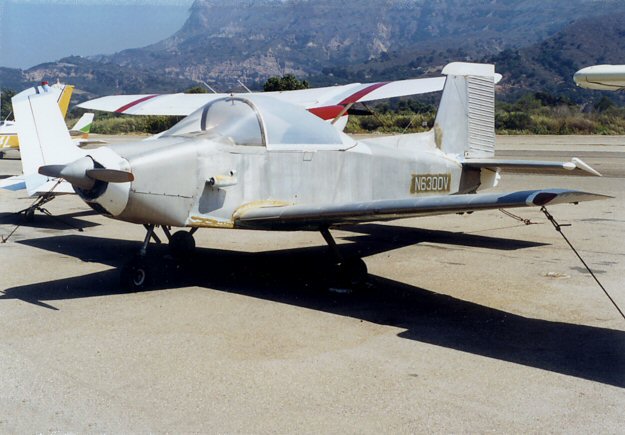 As an expatriate Australian, I'm almost embarrassed to put this image out here, since this machine has
obviously not been given much TLC (at least, not lately), and this shabby example does not exemplify
this neat little machine. N4300V was imported in 1964, although it would have been tough to maintain
properly without a designated Airtourer dealer in the US. In 2000 I shot the above image at Santa Paula
Airport, in Southern California and was told that, hopefully, this machine would be restored to its former
glory. Seven years later I do not think that has been done and meanwhile N4300V is now a Piper Dakota.
The Airtourer was designed by Dr. Henry Millicer, a Polish-Australian who became chief aerodynamicist
at the Government Aircraft Factory in Melbourne. In 1952 the Royal Aero Club in the UK issued a tender
for an aircraft to replace the Chipmunk as an Aero Club ab initio trainer. The Airtourer won the design
competition. Production was undertaken by Victa in Sydney in 1964. It ultimately did not receive the back-
ing of the Australian government in terms of support and investment in light of what was perceived as "dumping"
of light aircraft on the Australian market by American firms (notably Cessna and Piper*) and in 1966 without
warning, production of the Airtourer suddenly ceased after 170 model 100s and 115s had been produced.
Rights for its continued manufacture then passed to Aero Engine Services Ltd (AESL) in New Zealand who
built another 94 Airtourers. AESL then took the basic design and developed it into the CT-4 Airtrainer which
was sold to not only the RNZAF but, ironically, back to the RAAF and also to several other nations. As far
as the Airtourer is concerned, it is hoped that Edge Aviation in Australia will start the production line up again,
and we shall again see new Airtourers flying not only in Australia but as export machines all over the world.
Seen below is a contemporary image of the prototype Edge Airtourer taken by Phil Vabre at Avalon, Victoria,
Australia in March 2005. I include it to illustrate just how a clean Airtourer should be presented in contrast
to the wreck seen above,
* When, in 1966, Cessna ramped up production in Wichita to over 3000 Model 150s per year, it dropped the
Australian price from A$9,500 to A$8,750. Similarly Piper reduced the prices of both the Cherokee and
Musketeer by similar amounts.