Piper PA-32-260 Cherokee Six XB-SOK (c/n unknown)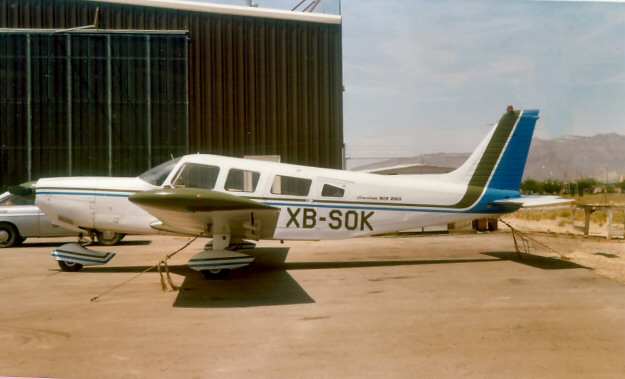 I don't have a (good) image of a US registered Cherokee Six. However, I lived in El Paso, Texas
from 1979 to 1981 and, whilst there, did shoot a fair number of XB- registered aircraft. The above
was one of them. At the end of 1963 Piper developed a six seat version of the PA-28 Cherokee.
Although in truth, three of the passengers needed to be children of somewhat less than 50kg each!
To accommodate the extra seats the standard Cherokee fuselage was lengthened by some 4 ft 6 ins.
Power (not enough of it in my opinion, under certain conditions) was supplied by an Avco Lycoming
O-540-E4B5 flat six engine developing 260 hp. For instance, one torrid day in December of 1971
the irrepressible Richard Maclean and yours truly rented VH-FIC at Moorabbin. Loaded with three
adults and two children (aged 10 and 7 respectively) the dog took virtually every foot of the active
runway then in use (it's been extended in the thirty five years since). I vaguely remember anxious
glances being made between us two up front as to whether Vr would ever actually be achieved!
Clearly it was, since we went on to bigger and better things, but the point is that the Cherokee Six
wasn't the greatest performer in the world under a decent payload.