Piper PA-30 Twin Comanche N7131Y (c/n 30-153)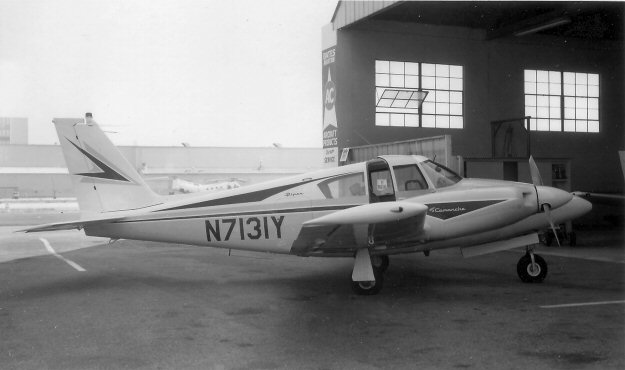 In 1962 Piper suspended production of the PA-23 Apache (although continued the line as the
somewhat larger Aztec) and introduced the Twin Comanche in its place. The aircraft was billed
as a four/six seater and initially powered by two Avco Lycoming IO-320-B flat four engines
developing 160 hp each. Aviator Max Conrad established a new world class distance record
in one when he flew non-stop from Cape Town to St. Petersburg, Florida in December 1964
(a distance of 12,679 km). The final version, the Turbo Twin Comanche C/R was actually given
as different series number, becoming the PA-39. The C/R stood for counter-rotating airscrews.
My brand new example is seen outside the distributor's hangar at Hawthorne Municipal one misty
day in September of 1964.