Wyoming Air Service Boeing 247-D NC13307 (c/n 1688)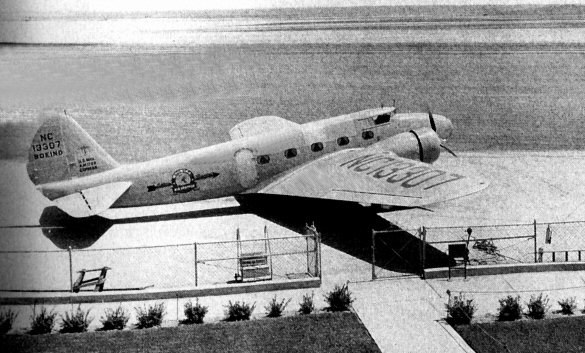 Wyoming Air Service could trace its history back to May of 1930 when it was first incorpor-
ated. Operations were started with two Stinson SM-8As. In 1935 it acquired a number of
Boeing 247-Ds from United Air Lines. This grainy image came from a Western Air Lines
publication (WAL took over Inland Air Lines, whom Wyoming Air Service became in 1937).
WAS held a route from Great Falls to Cheyenne, with intermediate stops at Lewiston, Billings,
Sheridan and Casper. (This is where Western's "milk run" came from). This route was later
extended to Denver and Pueblo, although that extension was sold in 1937 to Varney Air Trans-
port (Continental Air Lines' predecessor). Wyoming Air Service changed its name to Inland
Air Lines Inc in April 1938. Interestingly, NC13307 had been built for Varney Airlines originally
in 1933. It became part of the United Air Lines fleet before being sold to Wyoming Air Service
in 1935. It was impressed into military service as a C-73 (serial 42-61094) in 1942. After
WW II it went to Mexico as XA-DIZ .