Wright Airlines Convair 600 N74854 (c/n 51)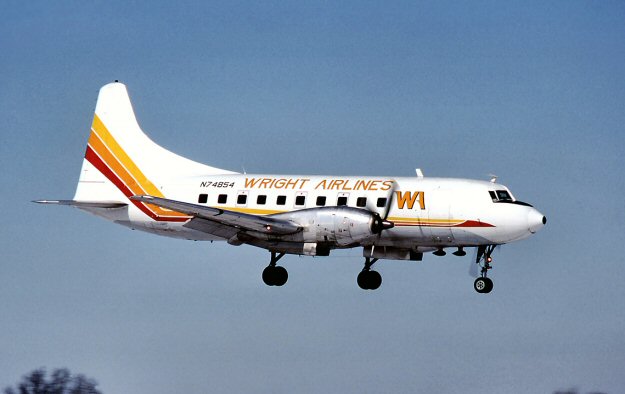 Following its being granted a full CAB approved interstate certificate, Wright began to expand its
route network. Services from Cleveland to Columbus, Cincinatti and Dayton, Ohio were soon
inaugurated. To cope with this added network in 1976 it replaced its Convair 440 with a fleet
of six ex-Central Airlines Convair 600s. These were former old American Airlines Convair 240s
which had been completely refurbished by the manufacturer and re-engined with two Rolls-Royce
Dart R.Da 10/1 turbo props. They aircraft were given a new shades of orange and white livery by
Wright (the only members of the fleet to adopt this livery). N74854 above is seen landing at Detroit's
Metropolitan Wayne County Airport in March of 1980 in this photo by Bob Garrard.