Wisconsin Central Airlines Douglas DC-3-201B N21728 (c/n 2144)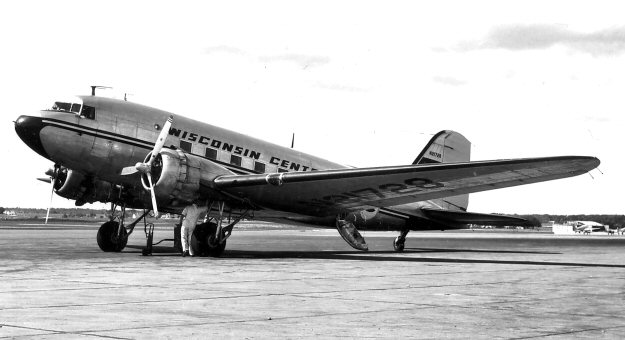 Another rare image from the Leo J. Kohn collection. Wisconsin Central updated its fleet
of Lockheed Electras with DC-3s starting in 1950. Ten or so of them were eventually to
fly with the airline. N21728 was a "true" DC-3 (i.e. not a reconstituted military C-47)
first delivered to Eastern Air Lines in 1939. It was finally withdrawn from service by
North Central in 1966 with over 84,000 hours on the clock. When the airline relocated
its headquarters to Minneapolis/St. Paul in 1952 it changed its name to North Central Airlines.
This aircraft is still in existence and is at the Henry Ford Museum in Dearborn, Michigan.