Wien Consolidated Airlines Shorts SC.7 Skyvan 3 N4917 (c/n SH.1850)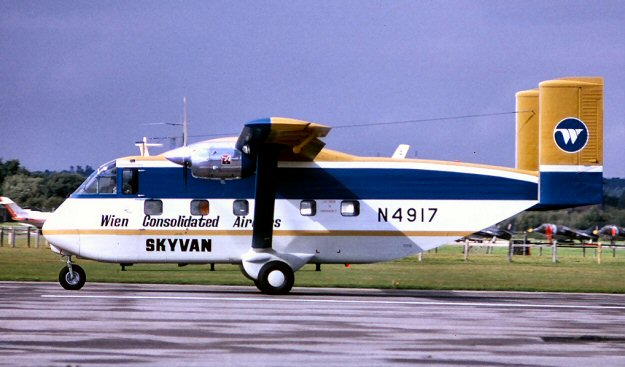 Design of the Skyvan was begun in 1959. It featured a high aspect ratio (Hurel-Dubois type) wing,
and a square boxy fuselage cross section. It was normally powered by two Garrett TPE331-201
turboprops. Some 150 of them were produced and Northern Consolidated ordered three of them,
two of which had been delivered by the time Wien absorbed that airline in 1968. N4917 was the
third and was delivered in 1968 in full Wien Consolidated titling. This nice shot by Steve Williams
was taken at the Farnborough Air Show in September of 1968 shortly after which the aircraft departed
for Alaska.