Wien Air Alaska Fairchild FH-227B N7815M (c/n 536)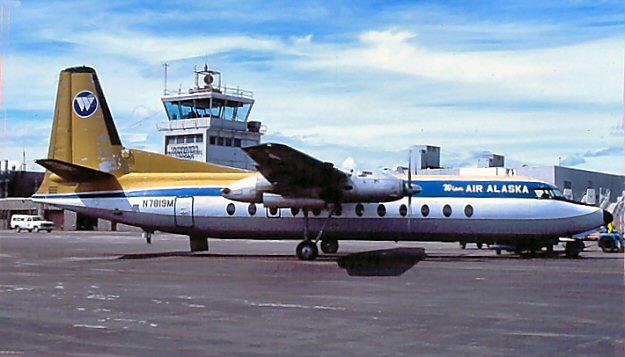 Wien Alaska Airlines changed its name to Wien Air Alaska in February 1966. It had planned, at
that time to seek permission for trunk routes to Seattle and Chicago. In the event this expansionist
dream was not pursued, although the airline did merge with Northern Consolidated in February 1968.
(In the period from 1968 to 1974 the airline carried the name "Wien Consolidated Airlines", but, as is
the norm for merged airlines, the "Consolidated" bit went away in 1974 and the airline reverted to the
Wien Air Alaska title). The above image is from the collection of Lars Opland, although Lars is un-
certain as to the identity of the original photographer. If that individual would kindly identify themselves
I will be happy to give the appropriate credit. This FH-227B was originally delivered to Mohawk Air-
lines in 1967. Wien Air Alaska acquired it in 1974, and converted it to a QC ("Quick Change") cargo
version. It was sold in 1979 to UK based Skyways Cargo Ailines as G-SKYA.