Wien Air Alaska Boeing 737-210C N493WC (c/n 21822)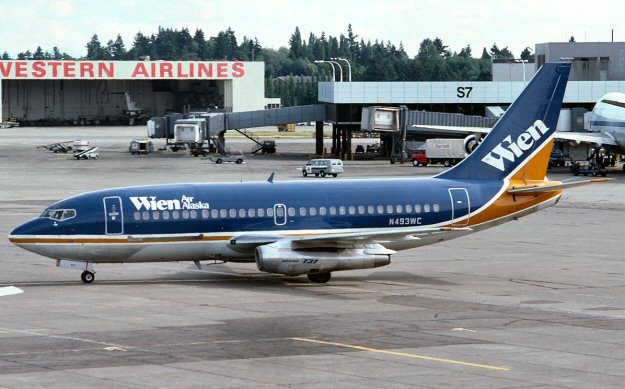 Wien Consolidated began taking deliveries of their Boeing 737s in 1973. By this time the airline
was ranging as far afield as Oakland, Denver and Phoenix. In 1974 it was decided to revert the
name back to Wien Air Alaska. To give the company its due, it took them six years to remove
the "Consolidated" bit from their title. Some airlines, of course, when swallowing another carrier get
rid of the former airline's title immediately. (Some, like Delta with Chicago and Southern, retained
it for less than a year). The image above, showing a typical 737 in the livery devised in the 1980s,
was taken by Gerald Helmer, at Seattle-Tacoma Airport in September of 1983. Seen below is
the same aircraft at Dallas/Fort Worth International in the markings used in the immediate post Wien
Consolidated period. This photograph is from the Ellis Chernoff collection. Wien Air Alaska ceased
operations on 23 November 1984. It was liquidated by its president (and owner) Jim Flood result-
ing in the loss of 1500 jobs. N493WC was sold to Alaska Airlines as N744AS.