Wien Air Alaska Boeing 727-277/Adv VH-RMW (N276WC) (c/n 20550)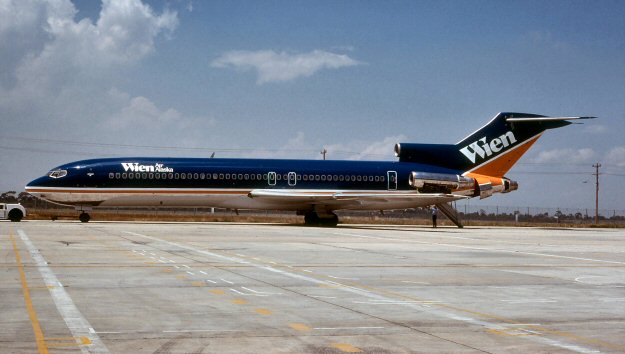 Wien Air Alaska had purchased several Boeing 727s in 1981 to provide extra capacity for its
routes which now extended well into the lower 48 states. At the end of 1983, about a year before
it folded, it acquired three 727s from Ansett Airlines in Australia. This image from the Clive Dyball
collection was taken at Tullamarine Airport, Melbourne, just prior to the aircraft leaving for Alaska,
where it became N276WC. At the end of 1984, the president of Wien Air Alaska, Jim J. Flood
attempted to restructure the company as Wien Airlines. The three Australian 727s were leased, at
that time, to Republic Airlines (and later to the resurrected Braniff Airways). In the event Wien Air-
lines did not emerge as a passenger service and was probably a "paper company" merely to handle
the leases of the former Wien Air Alaska fleet. Wien Air Alaska ceased to function as an airline on
23 November 1984.