Western Air Express Fokker F-32 NC333N (c/n 1203)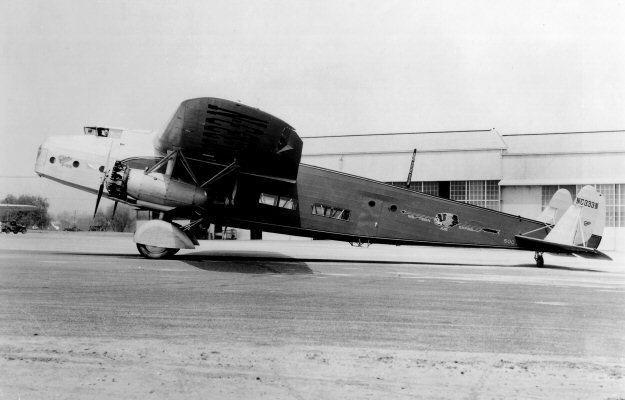 The F-32 was truly the "Jumbo" of the 1930s era. This machine was the largest transport aircraft of its
time and seated 32 passengers in (for the day) luxury accommodations. WAE purchased two of them
but they proved to be a bad investment as mechanical difficulties coupled with the economic conditions
of the Depression era could not support this type of airliner. The historic image below shows the aircraft
upon its arrival at the new Alhambra Airport in March of 1930. WAE had moved to this brand new
facility with its modern administrative offices and a unique 24,000 s.f. hexagonal hangar the previous year
from its original base at Vail Field. Strangely, having spent over a million dollars on the Alhambra field
they vacated it after only a couple of years for the more strategically placed Grand Central Air Terminal
in Glendale. Incidentally, I managed to visit this historic field in 1956 although it gone shortly thereafter.
Following this image is a footnote on Western's rags to riches and back to rags story up to this point in time.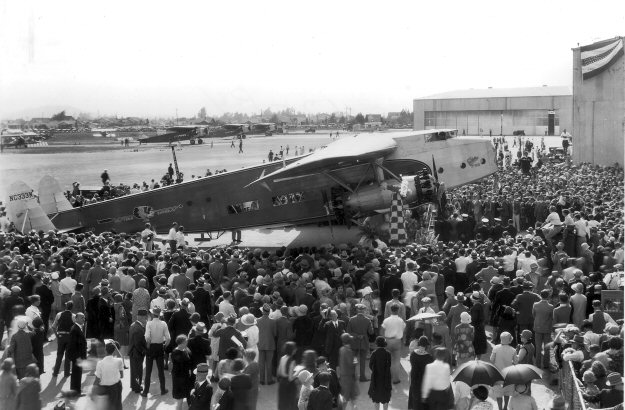 Historical Footnote on Western Air Express

:

By the time Western Air Express ordered the F-32 it had grown (mainly through acquisition) to be a very
large carrier indeed. It had purchased West Coast Air Transport in 1929 (WCAT was a subsidiary of
Union Airways at the time) which gave it rights for the San Francisco to Seattle route. It had already (in
1927) been granted CAM 12 from Cheyenne through Denver to Pueblo. In 1929 WAE purchased
Mid-Continent Air Express and with a route from Denver to El Paso and a fleet of Fokker Super
Universals. 1930 saw the company acquire Standard Air Lines which had a route from Los Angeles to
El Paso (later extended to Dallas). Finally, it had been granted rights for service as far east as Kansas City.
Its empire, then, covered 11 Western states and some 40 cities. Up to that time it was, in fact, one of the
"Big Five" (the others being American, Eastern, United and TAT). A powerful diplomatic figure at that time
was Walter Folger Brown, the Post-Master General. He could (in fact did) reshape the airline map pretty
much the way he wanted it (due to the all important air mail subsidies he held in his hand) and, being from the
so called "eastern establishment" was not endeared to upstart western companies such as WAE.. Trans-
continental Air Transport (TAT), which had recently purchased Maddux Air Lines providing service up and
down the West Coast (L.A. to San Francisco and beyond), was losing money . Brown's plan was that the
all important (central) transcontinental route should awarded to one company (in the name of economy and
efficiency). Unfortunately that plan didn't include WAE, but leaned toward TAT, despite fact that WAE was
profitable and TAT was not. He insisted, therefore, that before

any

contract was awarded, the two lines should
amalgamate. Under pressure, therefore, WAE agreed to merge with TAT, the resultant line being named Trans-
continental & Western Air, later of course to become TWA - Trans World Airlines. An autonomous WAE was
left with their original CAM 4 from Los Angeles to Salt Lake City, and the stand-alone Cheyenne to Pueblo
route in the Rockies. They had been forced to sell their west coast operation due to the increased competition
from Maddux and the fact that the depression was on, and few were flying. They were, in other words, right
back where they stared in 1926. In desperation Western turned to General Motors for infusions of cash and
early in 1933 WAE became part of North American Aviation of which General Motors was the holding corp-
oration. Then, in 1934 the whole air mail picture changed when the government rescinded all the existing
air mail contracts and the U.S Army was charged with flying the mails. This saga will be continued on the
page for the General Air Lines DC-2.