Western Air Express Fokker F-10 NC4458 (c/n 1000)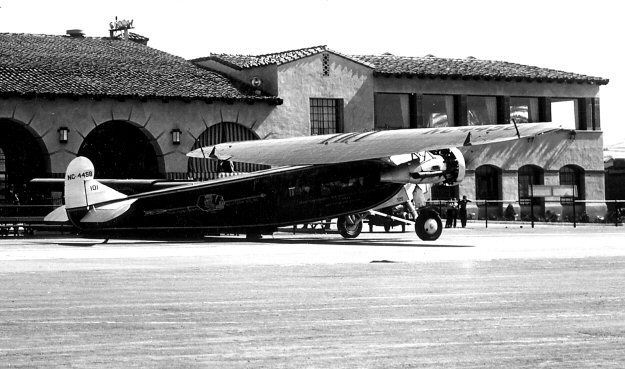 In 1928 WAE was selected to operate first class passenger service from Los Angeles to San
Franscisco. To fly this, and to boost the passenger capacity on the Salt Lake City route, a
fleet of 16 F-10s was ordered from Atlantic Aircraft Corporation. Seen above at Grand Central
Air Terminal in Glendale is the first of these machines. The American Fokkers were orginally
assembled under license by the Atlantic Aircraft Corporation at Teterboro Airport in New Jersey.
All components were shipped out from Holland. By the end of the 1920s the parent company
restructured the U.S. business with new capital and shareholders and formed the Fokker Aircraft
Corporation of America. Shortly afterwards WAE gained a majority interest in this new corporation
and Harris Hanshue became president of it as well as of WAE. Busy man, wasn't he? In May 1929
General Motors acquired a 41% stake in Fokker Aircraft providing much needed capital. (This is an
impoprtant fact as we will see later). Eddie Rickenbacker became director of sales (also important).
Fokker itself became a division of GM's General Aviation Manufacturing Corporation and, in the
event, ended its U.S. operation in 1931 due to lack of sales in the Deprerssion and also to the much-
publized crash on 31 march 1931 of a TWA F-10a in which football legend Knute Rockne was killed.
The photograph below shows passengers embarking on NC582K (c/n 1042). Both images were
acquired from the Western Air Lines archives.