Western Air Express Douglas M-2 C150 (c/n 244)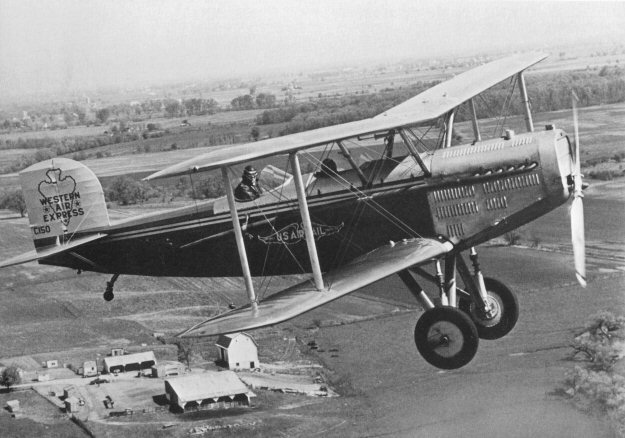 Western Air Lines, and its predecessor, Western Air Express had what I would call a rather tragic
history over the course of most of its 60 years. There seemed to be more "bad times" than "good
times". I was fortunate that I worked for the company during one of the "good times" i.e. the post
war 1950s-60s era and it was certainly a happy place to be then. Anyway, Western Air Express
was incorporated on 13 July, 1925 by Harry Chandler owner of the Los Angeles

Times

. He
appointed former racing driver Harris M. "Pop" Hanshue as president. Because of this mid-1920s
beginning the airline often referred to itself as the nation's Oldest Airline. When this connotation
appeared to refer to the equipment, this was changed to "America's Pioneer Airline". The fledgling
company was awarded Contract Air Mail Route # 4 (CAM's were essential for survival in those days)
to carry the mail from Los Angeles to Salt Lake City, via Las Vegas (which was, at the time, merely a
pit stop in the desert). Six Douglas M-2s were acquired with which to service this route. Head Office
was at Vail Field, Los Angeles, in what is now the City of Commerce (the field was still in there up until
the late 1940s). Passengers were first carried on 26 May 1926. The shot below shows Harris M.
"Pop" Hanshue handing up the first bag of mail to the first pilot of the new company, Fred Kelly, seated
in a Douglas M-2 (undoubtedly C150). This craft has two tandem open seats in which the passengers
referred to above were carried. Both images are courtesy Western Airlines. The upper photograph
actually displays a restored Douglas M-4 done up to look like C-2 C150. The M-4 had a larger
mail load and only one passenger seat.