West Coast Airlines Fairchild F-27 N2705 (c/n 16)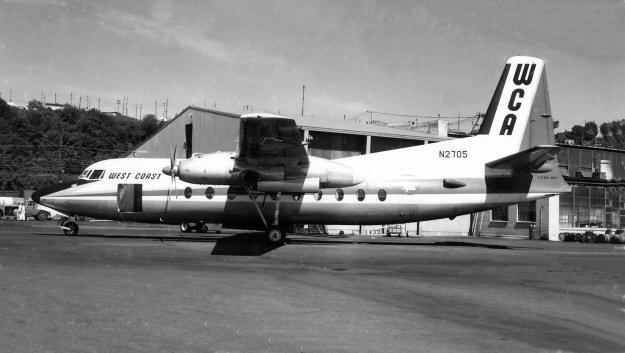 West Coast has the distinction of being the first operator in the world to fly the Fairchild/Fokker
F-27 Friendship (as it was known outside of the US) on scheduled services. Although the aircraft
had been designed and developed in Holland, Dutch production did not get under way for some
three years. By that time tooling had been ramped up by Fairchild in Hagerstown and consequently
deliveries were more or less simultaneous. As a result West Coast were able to inaugurate prop-jet
services with the F-27 on 27 September 1958, whereas the first European operator (Aer Lingus)
didn't get off the ground with their F.27s until November of that year. My shot was taken at
Seattle's Boeing Field in 1961. This aircraft passed to Air West in 1968 when that company was
formed with the merger of West Coast, Pacific and Bonanza.