West Coast Airlines Douglas DC-3 NC44587 (c/n 12857)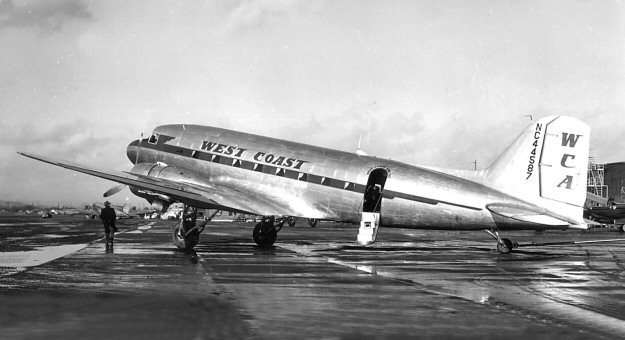 West Coast Airlines was formed on 14 March 1941 in Seattle. However, it did not begin scheduled
services until after WW II, inaugurating its first route from Seattle to Portland on 22 May 1946.
NC44587 was built as a C-47A-20-DK Skytrain for the USAAF with serial number 42-92995.
It is seen above in this nice shot on a wet SEATAC apron in the late 1940s. WCA acquired it from
the Reconstruction Finance Corporation in June of 1946. It is one of the DC-3s still alive and well
and is living, currently, in Alaska. West Coast was awarded the route from Portland to Medford in
1947 and went on from there to become a sizable Local Service Operator. It was serving some
twenty cities in western Washington state and northern Oregon by 1949.