Varney Speed Lanes (Southwest Division) Lockheed Vega 5C N965Y (c/n 40)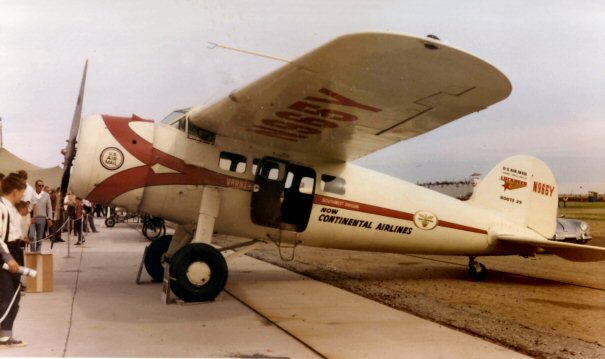 I detest presenting images of restored aircraft in this series as representative types, but this is the
only photograph I have of an aircraft type in the markings of a true predecessor of Continental
Airlines. This shot was taken at an air show at Palm Springs circa 1964. Incidentally, this actual
Vega had an interesting history and was originally registered NC199E and never was owned by
Varney. It was re-registered N965Y in 1962 by Paul Mantz in anticipation of its use in a movie
about Amelia Earhart (965Y being Amelia's old number). It was then later painted up in Varney/
Continental markings. Anyway, back to Varney Speed Lanes. In 1934, when the new Air Mail
contracts were issued, Walter T. Varney was awarded the route from El Paso, Texas to Pueblo,
Colorado To fly this he acquired a small fleet of four Lockheed Vegas and named the enterprise
the Southwest Division of Varney Speed Lanes, the name of his company in California. He left the
running of the Division to his partner (and former lawyer) Louis H. Mueller. At the end of 1934 the
company was renamed Varney Air Transport. In 1935 Robert F. Six purchased a controlling interest
in the fledgling airline and slow, but steady progress was made. In July of 1937 Varney Air Transport
was renamed Continental Air Lines.