Varney Air Lines J5 Swallow Mailplane Registration unknown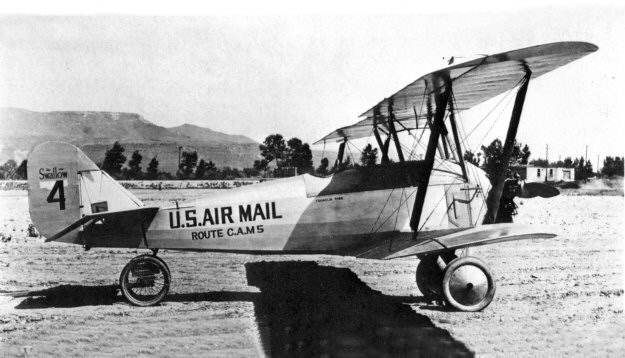 Walter T. Varney learned to fly during WW I. In the 1920s he dabbled in various aeronautical
enterprises and in 1926 won the Post Office bid for the carriage of mails from Elko, Nevada to
Pasco, Washington, via Boise, Idaho (AM Route # 5). Actually, his was the only bid, and to
honor it he acquired six modified Swallow biplanes. The first one was powered by a 150 hp
Curtiss K6, and in this machine pilot Leon Cuddeback flew the first air mail schedule on 8 April
1926. Evidently all did not go well, for the service was immediately suspended pending the
installation of 220 hp Wright J-5 Whirlwind engines in the entire fleet. . Mail flights were
resumed on 6 June 1926. The shot below shows pioneer pilot Cuddeback in front of aircraft
# 6 (after it had been modifed with a Wright Whirlwind).