United Air Lines Douglas DC-7 N6322C (c/n 44286)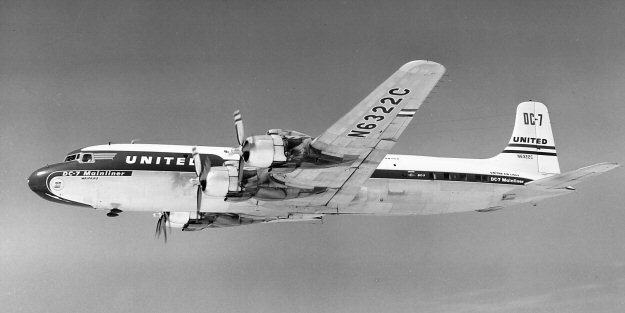 The above shows one of the 50 DC-7s employed by the airline commencing in 1954. This
aircraft is carrying the name "

Mainliner Waipahu

" although all listings I have of UAL Mainliner
names suggest that this was originally "

Mainliner Philadelphia

", later "

Mainliner Hana Maui

"
N6326C was "

Waipahu

". This switching of names among aircraft was quite common, especially
where the taking of publicity shots was concerned. It seems that, as soon as the shots were taken,
the naming committee decided to rename the aircraft. PanAm was particularly prone to this practice.
The magificent looking N6322C was sold in Spain in 1965 as EC-BAF. It apparently was never
used, but broken up for spares at Palma, Majorca during the same year.