United Air Lines Douglas DC-3-343 NC19964 (c/n 2265)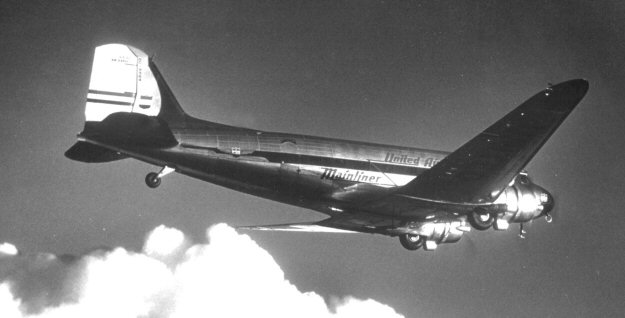 United began replacing its Boeing 247Ds with DC-3s at the end of 1936. Even though the Boeing
airliners were a little more than three years old at the time, clearly they were outclassed by the svelte
Douglas machines. The evocative shot above shows "

Mainliner Seattle

" winging its way south on
the Pacific coast route in the late 1940s. (This machine had originally been delivered to Western Air
Express in 1940, but at that time a cozy sort of equipment interchange existed between the two lines).
As one of the "big four" airlines in the U.S., United operated, at one time or another, over 120 DC-3s.
c/n 2265 was sold off in the 1950s and wound up working for Servicios Aereos Santa Isabel in the
Argentine as LV-HOJ. As late as September of 1982 it was photographed at Toronto's Lester B.
Pearson International Airport (see below) by Den Pascoe , bearing the titling "Empressa Provincial
de Aviacion Civil - Santiago del Estero" . It appears to have been cannibalized for parts, however,
rather than going onto the Canadian civil register.