Trans World Airlines Boeing 747-131 N93107 (c/n 19673)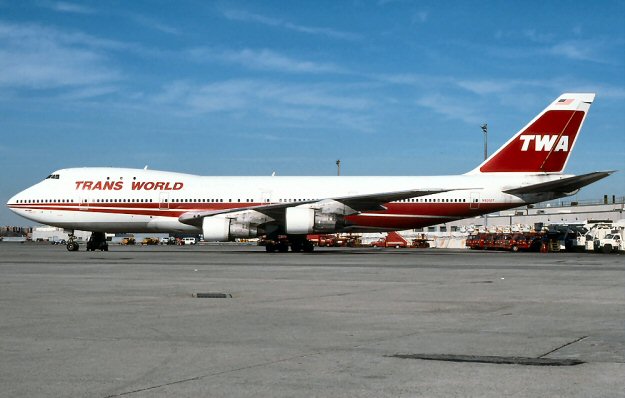 TWA began operations with the mighty 747 in 1970. They were used on both their overseas
routes, and also on domestic transcontinental services. The airline owned/operated approx-
imately 25 of the series 100 machines, but later acquired 7 "previously owned" series 200s.
This typical -131 "heavy" was captured at New York's JFK International Airport in February
of 1997 by Michael McLaughlin.



Note:




On 17 July 1996, about 8.45 p.m. N93119 operating TWA Flight 800, exploded over the Atlantic
Ocean near Long Island shortly after take-off from JFK Airport killing all 230 souls aboard. The
aircraft was on a regularly scheduled flight to Paris, France. Initial reports indicate that witnesses
saw an explosion and then debris descending to the ocean. There were no reports of the flight crew
reporting a problem to air traffic control. The NTSB concluded that the most likely cause of the
disaster was a center fuel tank explosion sparked by exposed wiring. The media at the time
focused heavily on the fact that TWA's airline fleet was among the oldest in service. The crash did
little to foster consumer confidence in the, by then, beleaguered airline. By 1998 it had reorganized
primarily as a domestic carrier.