Trans Texas Airways Douglas DC-3-178 NC17331 (c/n 1917)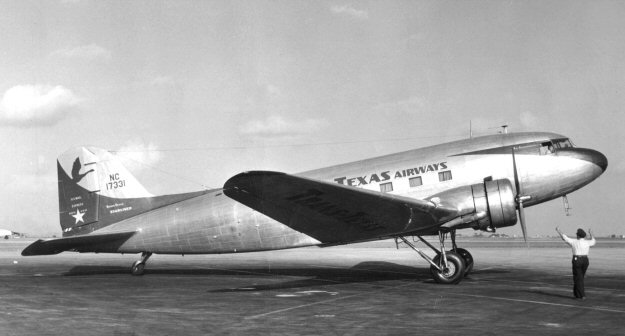 TTA was founded in 1944 in Houston, Texas as Aviation Enterprises. Upon receiving its air mail
and passenger carrying charter from the CAB in 1947 it changed its name to Trans Texas Airways.
Initial services ran from Houston to Dallas, San Antonio and El Paso. A modest fleet of DC-3s was
acquired from American Airlines. Both photos are courtesy Trans Texas Airways. N17331 above
is seen at Houston in 1948, whilst the nostalgic shot below shows the Houston maintenance base.
The aircraft nearest the camera is N18141 (c/n 2137). That same machine, displaying a later
livery, is seen in the reproduction of a post card following the B&W photo below sent to me by TTA
back in the 1960s The aircraft is flying over the San Jacinto Monument in the State Park just east
of Houston.