Transcontinental & Western Air Northrop Alpha 3 NC961Y (c/n 8)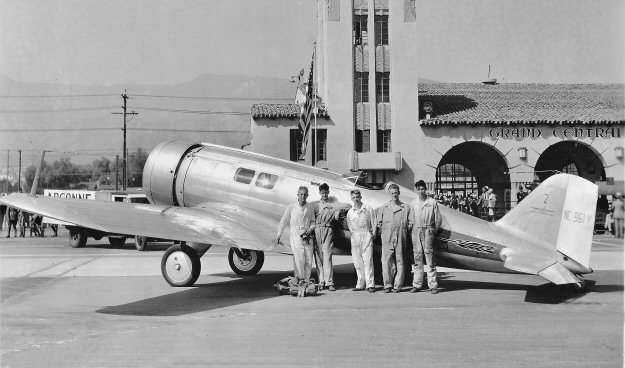 John K. Northrop had designed the Lockheed Vega when working for that company at Burbank
in 1927. By 1928 he had formed his own company and produced a series of high speed aircraft,
the first of which was the Alpha (not counting his experimental Flying Wing, which was not prod-
uced commercially). Three Alpha 2s were built, one of which went to the NAT Line (National Air
Transport) and seated seven passengers. Five Alpha 3s were delivered to TWA and were of the
three place combination mail-passenger type. The historic shot above is from Michael Gormly
whose father, John F. Gormly was an aircraft mechanic in the 1930s* . That's John, second from
left in the photo above. Immediately below is an enlargement of that section in case any viewer
identifies a relative who also was present that day at Grand Central Air Terminal in Glendale, Ca.
I would put the date around 1931 (the year I was born!). The photo at the foot of the page from
my own collection received from TWA in 1940s, depicts NC961Y plus one other Alpha wearing
trousered landing gear and with intrepid airman, complete with parachute, in attendance.

* John Gormly was to go on to ferry B-24s from San Diego to Australia during WW II. A trip of
some 26 hrs, each way. (And I bitch about the 14 hour non-stop drag nowadays from LAX to
SYD!).