Trans World Airlines McDonnell Douglas DC-9-15 N1070T (c/n 45784)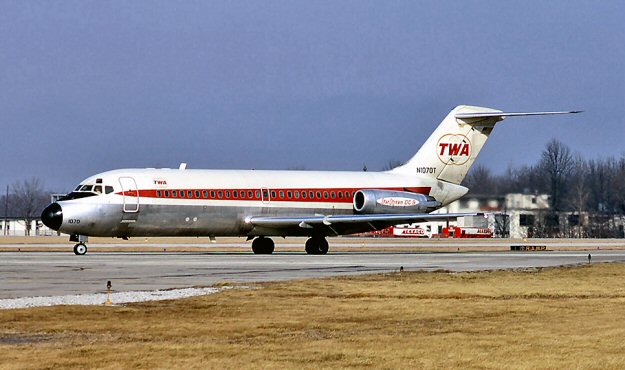 Douglas were late in getting into the short haul jet market. In fact, they had signed an agreement with
Sud Est to market the Caravelle in the US in the early 1960s. This was unprofitable for both sides,
but as a result Douglas didn't really get going on the DC-9 project until that agreement had been term-
inated. Consequently, the DC-9 didn't fly until 1963. TWA ordered 20 of them in 1964 and the above
machine was the last of the original short bodied (series -10) order. This Bob Garrard shot shows
the aircraft wearing "StarStream DC-9".titling on the nacelles at Port Columbus International Airport,
Ohio, in December of 1970. TWA sold N1070T in 1980 and it went then to Midway Airlines. I'll
append Frank C. Duarte Jr's photo of it below (taken at Washington National in July of 1981). When
I work up Midway as a seperate entity I will relocate this image.