Trans World Airlines McDonnell Douglas DC-9-31 N987Z (c/n 47137)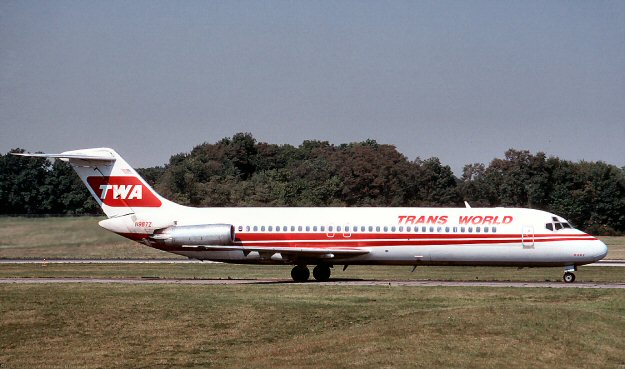 Following deregulation, TWA found itself in trouble. Trans World Corporation, the holding company,
decided to spin off the airline. At first an attempt was made sell it to corporate raider Frank Lorenzo.
(Of Texas Air and Continental Airlines fame). In the event, another corporate tycoon, Carl Icahn pur-
chased it in 1985. Shortly after that Icahn also acquired Ozark Airlines (for a mere $224M) and merged
it into TWA. Ozark at the time was an all DC-9 carrier and the fleet of 50 of them (the majority series
30s, but also including 3 series 40s and 4 MD-82s) passed to the TWA asset register. N987Z was
one of the series 30s and is seen here in this Frank C. Duarte Jr shot at Covington Airport in northern
Kentucky (the airport for Cincinnati, Ohio) in August of 1991. When new in 1968, this aircraft had
been delivered to Northeast Airlines as a yellowbird (N983NE), passing to Delta when NEA folded.
Ozark acquired it in 1974. I believe it is now stored in the desert at Victorville, California.