Trans World Airlines Lockheed L-1649 N7301C (c/n 1002)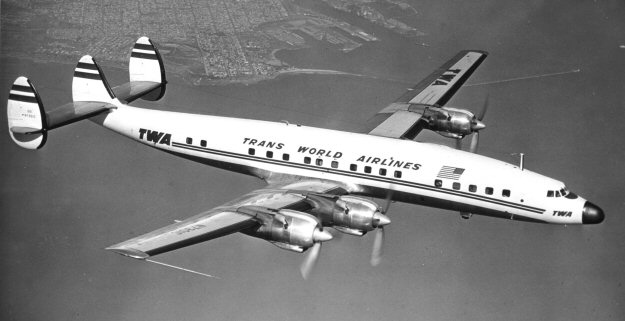 The ultimate variation on the Lockheed Constellation theme was the L-1649A Starliner, first flown
in 1957. This aircraft had completely redesigned squared off wings, shown off to good effect in the
banking shot, below. It was powered by four mighty Wright 988TC-18DA-3 engines developing
some 3,400 hp each. The image above was taken on a proving flight over Southern California before
the name "

Star of Wyoming

" had been applied. The Starliners entered service right on the threshold
of the jets usurping the piston engined machines realm and hence their careers with TWA were quite
short. Some were only operated for four or five years as passenger aircraft and then converted to
freighters when Boeing 707s began to be delivered. TWA was unique among the trunk carriers in
that it never operated prop-jets.