Trans World Airlines Lockheed L-1049G Super Constellation N 7102C(?) (c/n 4583)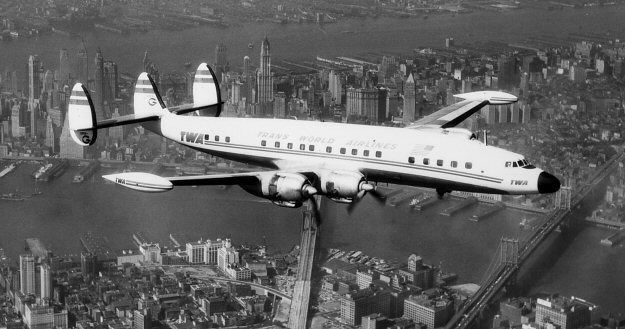 There were six variants of the Lockheed L-1049 airliner produced. The L-1049G had provision for
609 gal capacity wing tip tanks (although not all carriers used them) extending the range. TWA oper-
rated this version on its European routes. In 1955, when this aircraft was delivered, the "in vogue" thing
was to paint the registration (usually called "tail number": in the US) in two and one half inch high num-
bers on the fin of the aircraft. I have another shot of this machine, clearly taken at the same time,
whereby the rego is barely visible on the upper surface of the starboard wing. I am assuming it is the
same aircraft, but hedge my bet by placing a query mark after the rego in my heading for this entry.
From the distance the camera aircraft was from the target in taking the above shot there is no way that
the rego would have been visible. In fact, I have stood right under the tail of one of these majestic looking
aircraft and could barely make out the identity of it whilst standing on the ground, not 20 feet away!
Eventually, around 1956 the FAA said, in effect "enough of this nonsense" and issued an edict whereby
the "tail number" should be painted on the fuselage in script at least a foot high. It has been that way ever
since, although I have noticed that some carriers, of late, have resorted to rather minuscule numbers again.